Back to
genealogy

<!a href="maxE.htm">Index
Part 1
Part 2
Part 3
Part 4
Part 5
Part 6
Part 7

German

Searching for Max
The engineer, the war and the world´s longest cave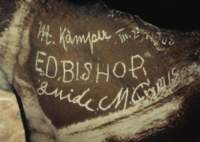 Research report
by Bernd Kliebhan and Nina Thomas
---
---
This web site is based upon the radio story "Suche nach Max", broadcasted by hr1 december 26, 1999.

Special Thanks to Wulf-Ekkehard Lucke (Landesarchiv Berlin), Birgit Böhme (Berliner Stadtbibliothek), family Hans Kämper (Ochsenhausen), Hans Binder (Nürtingen), Dr. Heinrich Luyken (Familienverband Luyken), Dr. Klaus Thomas (Bad Homburg), Bernd Adam (Akademische Vereinigung "MOTIV"), Chuck DeCroix, Rick Olson und Stan Sides (Cave Research Foundation).

Our discoveries contribute to the NSS research project "Max Kämper and the Mammoth Cave Connection" directed by Charles J. DeCroix.
---