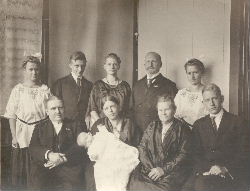 21.10.1923
Baptism
Rear: Hildegard?, Fritz, Margarethe,
Eduard and Hedwig?
Front: Reverend Ungnad, Wilhelmine with <!a href="../11Gen/11135E.htm">Elizabeth,
Mrs. Strohschneider and Paul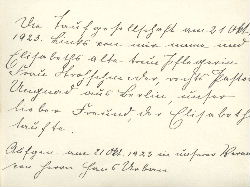 Rear side
"The baptism party on 21st Oct 1923. On my left my and Elisabeth's old faithful caretaker, Mrs. Strohschneider,on the right reverend Ungnad from Berlin, our dear friend who baptised Elisabeth. Picture taken on 21 Oct 1923 in our porch by Mr. Hans Urban"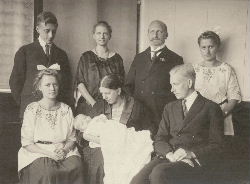 21.10.1923
Baptism