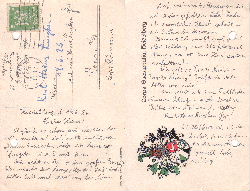 Heidelberg, den 14.6.1926

Dear Hans!

Even as it has been a while since I wanted to tell you that shortly before Pentecost I went to the Corps Rez.
How are you doing in the whole? What is the long knife doing? Please let me hear about you soon!
On my lastz 4 duels which I have fought so far I was very lucky as I only had 3 stitches.
Aren't you coming soon to Heidelberg to see the castle lightning as you were planning?
How are aunt Luise and aunt Hedwig doing? Please greet them from my part.
Now I have to go to the duel. Therefore I quit. Many sincere greetings from your faithful cousin

Kurt-Heinz Luyken

P.S. Hopefully the circle I draw behind your name is right!