Biography Lina Hammacher
Lina was born on April 13rd1850 as the second youngest of four daughters from iron works owner Wilhelm Hammacher and his wife Mathilde, née Luyken. She enjoyed in Warstein a very happy youth and lots of latitude.

The girls took school lessons at home. At age 15 she was sent to a boarding school in Aachen for further education. To her own estimation she had not made the teachers very happy as instead of being intereseted in books she was fond of art at an early stage and not least for everthing practical. At the paternal factory as well as at the horse stable she excellently knew about. When guests came to visit the iron works her father not seldomly said: "Take Lina with you, she can explain you everything very well." She had a good relationship to the workers and was proud about it. She also liked to go together with the supervisors into the mines in which her family hold interests. Of course it also fits that she preferred to play with boys and crept into every corner, a dress sometimes being damaged. Grandfather Philipp Luyken, who liked the kid from Warstein, held out his protecting hand above his grandchild.

As father Hammacher assumed after grandfather Hammacher's death the business in Dortmund as well as the management of the steel mill in Barop, the family lived again more frequently in Dortmund where Lina had the chance to meet her future man.

After the death of Major Carl Kerlen his wife administrated the house on Eichholz Street Nr. 16, as the numbering was then. From 1881 on, Kerlens are said to have lived in Arnsberg. The guest's book for the mansion was presented to the family in 1890 and scrolling through its pages is very instructive. It was not only custom to welcome relatives to the house but also to open house and garden for prestigious personalities and not least for artists. So we find the composer Max Reger in the guest's book and above all numerous visual artists. A special relationship associated Lina and Karla Kerlen with the painter Heinrich Vogeler. The artists not only spent pleasant days in the house and the garden but also could sell one or another work to the Kerlens. An acquaintance of the family writes in his memoires that the Kerlens's house was full with art treasures; besides a certain patronage of H. Vogeler from the artist colony of Worpswede, which showed itself in the ownership of several of his works, an "annunciation" of the painter Karl Plückebaum from Düsseldorf, who was also a very frequent guest in Arnsberg, adorned an exposed place above a cherrywood dresser in her workroom.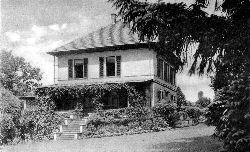 The Kerlen mansion, the later Officer's Casino, hosted thus up to the thirties many an illustrous guest. But first we should complete the family chronicle in a narrower sense. While son Karl had died after only a few days in Weissenfels, they had a son Gert practically as a latecomer in 1887 in Arnsberg. Gert first tried himself as a trader and became a farmer, married and moved to Bavaria. Son Kurt had an agitated life as his father until he setteled down in Zingst on Darss Peninsula. He inherited the mansion with the southern part of the park after the death of his mother Lina in 1934. As the premises were not very well suited for his ambitions as gardener and flower breeder he sold the house and the garden to the Army and with the proceeds acquired a farm in Schleswig-Holstein which up to now is administered by his descendants.

As Lina was buried on November 3rd 1933 in the cemetery of King Street a not mentioned feature of her was commemorated in an obituary. The old Major's wife must always have cared for children's wishes and so we can read in the obituary: "In this context the deceased has to be commemorated as patron of the Children's Shooting Fair at the neighbourhood of Eichholz which was well known in Arnsberg before the war, where the old lady was presented every year with an imposing torchlight procession by the children in presence of the Royal Couple of the Civic Riflemen Association of Arnsberg."

Source: Report by Horst Bernstein in: "Heimatblätter, Heft 27, 2006, Arnsberger Heimatbund e.V." (German)